Evaluate
Excel Skills 2.5x

Faster

Tired of sending Excel sheets to candidates via email? Tired of evaluating the submitted results? Save countless hours to hire analysts, and similar jobs requiring Excel. Empower your team to conduct Excel interviews, assessment programs, and skills tests.

63

Interviews conducted past 7 days

30 days money back guarantee
Try it live, for free
We have prepared a demo for you to try out the experience of sending a task to a candidate and evaluating the results. Create an interview within 5 minutes instead of using hours of your time.
Business Analyst
Seeking a skilled Business Analyst to gather, analyze, and interpret data, providing valuable insights to drive strategic business decisions. Join our team to contribute to organizational growth and success.
Financial Analyst
Looking for a Financial Analyst to analyze financial data, identify trends, and provide insights to support informed decision-making. Join us to contribute to financial strategies and optimize business performance.
Accountant
Seeking an Accountant to ensure accurate financial records, manage budgets, and support financial reporting. Join our team to maintain financial stability and compliance while driving organizational success.
Made for the world's best companies.
From next-gen startups to established enterprises.
How it works
A better Assessment for Excel
Test the Excel skills of candidates for analyst, accountants, investment bankers, project managers roles, and many more. Within minutes. Without sending tasks via email.
Send an assessment link.
Choose an assessment based on the role you are hiring for from our numerous templates. Send a unique link to all your candidates for the position with an assessment you choose from our test library.
Candidate testing.
The candidates can now take the assessment. They can use our web editor to fulfill the tasks. With time limits, and clear test results.
Evaluation.
Evaluate the candidates based on the results. You can see the results in our platform or get a report via email.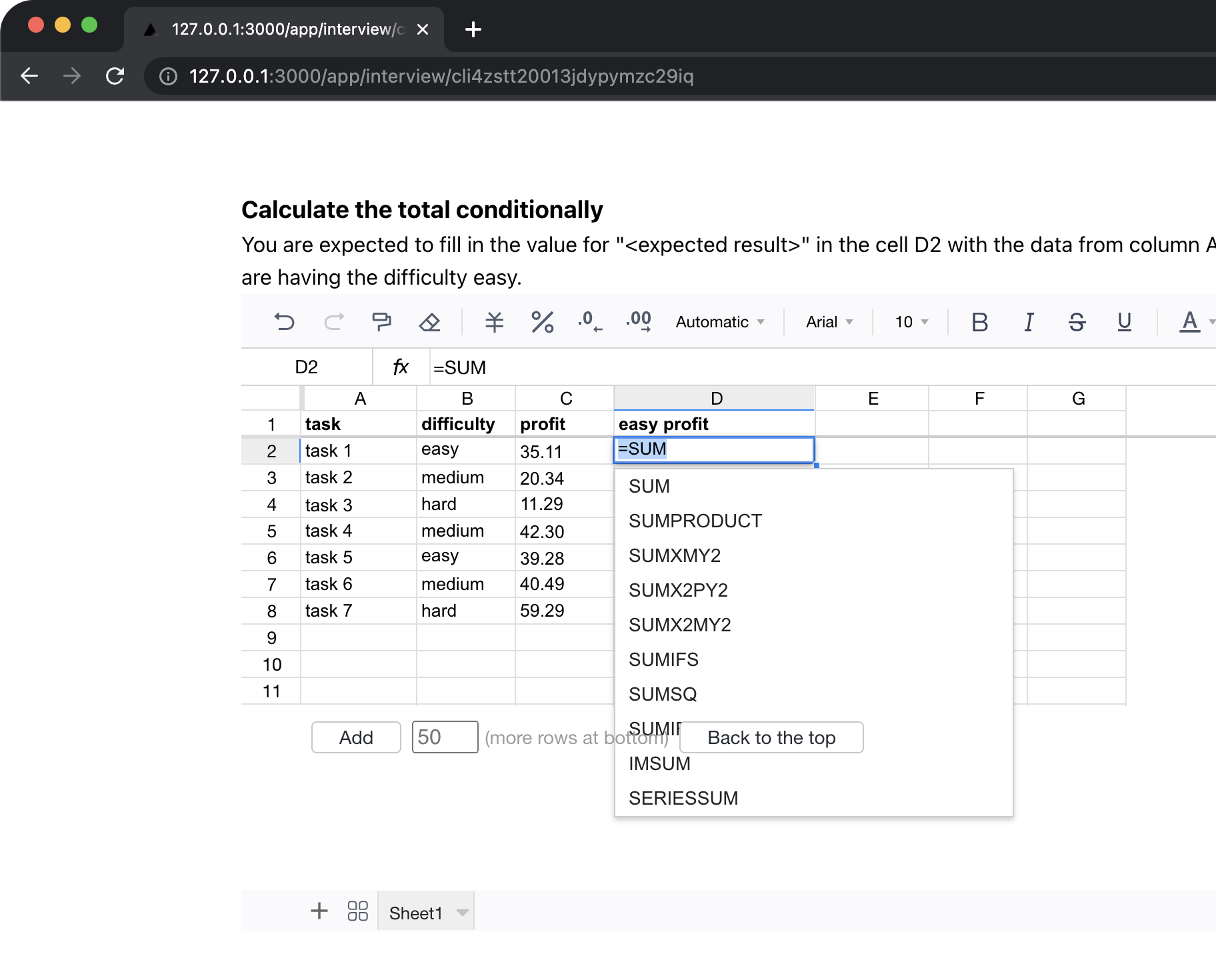 Plans that fit your need
For all type of companies. 30-day money-back guarantee.
3 Excel Coding tasks from our catalog
3 Excel Coding tasks from our catalog

100 excel assignments per year
30 Excel Coding tasks from our catalog

1500 excel assignments per year

unlimited Organization accounts
Build your team based on evidence, not assumption
Elevate Your Talent: Excel Challenges for Building Robust Teams and Revolutionizing Candidate Experience. Harness the Power of Accurate Skill-based Excel Tests, Driven by an Advanced Online Recruitment Platform.
Candidate & Test Management
Effortlessly manage candidate assessments and track their progress with our intuitive Candidate & Test Management system. Streamline your hiring process today!
Web-based and accessible Excel environment
Experience a web-based Excel environment that provides easy accessibility and seamless collaboration for efficient skill assessment.
Test Catalog
Unlock a vast Test Catalog tailored to diverse roles - assess Excel proficiency effectively, ensuring the right talent for your team's success.
Frequently Asked Questions